Feminine Fusion
S06 Ep11: Low Strung, Part 3
by Diane Jones
November 13, 2021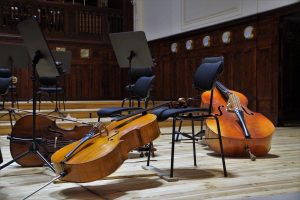 "All I want to do is go out there and share the wonderful world of music. And advocate music education for every single child regardless of background, ethnicity and wealth. Because it's so good for you to learn an instrument." – Chi-chi Nwanoku
We're a little low strung this week on Feminine Fusion, with music from women who play the double bass and the cello.  We have performances from some musicians you may know, and I'll introduce you to some who may be unfamiliar.
Since 1998, there have been 335 double bass auditions in orchestras around the country.  96% of those positions were won by men.  There is a bias that only a big, strong person could play such a massive instrument.  But double bassists like Chi Chi Nwanoku and Nina DeCesare (like Julius Caesar) contradict that image.  DeCesare plays with the Oregon Symphony, but says that, even those who support her sometimes show an unconscious bias.  A donor once told her that she loved watching her play because she's "keeping up with the men and their big muscles!"
Low Strung, Part 4
Ambroise Thomas:  Connais-tu le pays où Fleurit L'Oranger?
Sol Gabetta, cello
Prague Philharmonic Orchestra; Charles Olivieri-Munroe, conductor
"Cantabile"
RCA 735962
Clara Schumann:  Drei Romanzen, Op. 22
Diane Gannett, bass
René Lecuona, piano
"Lady Bass"
Block M. Recordings 030
Johann Baptist Vanhal:  Double Bass Concert in D Major (excerpt)
Chi-chi Nwanoku, bass
Swedish Chamber Orchestra; Paul Goodwin, conductor
"Double Bass Concertos"
Hyperion 67179
Lera Auerbach:  Cello Sonata
Ani Aznavoorian, cello
Lera Auerbach, piano
"Celloquy"
Cedille 137
Nadia Boulanger:  Trois Pieces for cello and piano
Beatriz Blanco, cello
Federico Bosco, piano
"Of Love and War"
Odradek Records 418
Henriëtte Bosmans:  Trois Impressions
Leah Plave, cello
Dan Sato, piano
"Impressions: The Rediscover of Henriëtte Bosmans"
Independent
Run time:  58:30
Feminine Fusion highlights the roles of women in classical music. Host Diane Jones brings you stories and music of the women who create, perform, and inspire. Produced in the studios at WCNY-FM.
◄ Back to News