Feminine Fusion
S06 Ep14: Patchwork Quilt, Part XXX
by Diane Jones
December 4, 2021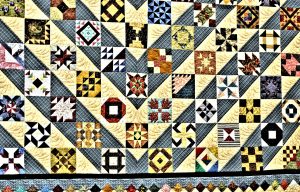 "I think music in itself is healing.  It's an explosive expression of humanity.  It's something we are all touched by.  No matter what culture we're from, everyone loves music."  – Billy Joel
The days are getting colder, so what better time to add to our Patchwork Quilt.  This episode will catch your attention with the variety of works you'll hear.
Patchwork Quilt, Part XXX
Missy Mazzoli:  You Are The Dust
Emily D'Angelo, soprano
die freie orchestre Berlin; Jarko Riihimäki, conductor
"enargeia"
Deutsche Grammophon
Pamela Sklar:  Two Journeys
8 Strings and a Whistle
"…and nothing remains the same…"
Ravello Records 8061
Rosephanye Powell:  Sicut Cervus
Seraphour
"Angele Dei"
Independent
Sergei Rachmaninoff:  Nocturne No. 10
Claudette Sorel, piano
"Claudette Sorel: Rediscovered"
Sorel Classics 018
Julianna Hall, with text by Molly Fillmore: Cameos
Molly Fillmore, mezzo-soprano; Elvia Puccinelli, piano
"Bold Beauty"
Blue Griffin Records
Hania Rani:  Demons
Hania Rani, piano & electronics; Dobrawa Czocher, cello
"Inner Symphonies"
Deutsche Grammophon 138138
Run time:  58:30
Feminine Fusion highlights the roles of women in classical music. Host Diane Jones brings you stories and music of the women who create, perform, and inspire. Produced in the studios at WCNY-FM.
◄ Back to News