Feminine Fusion
S06 Ep16: Holiday Music
by Diane Jones
December 18, 2021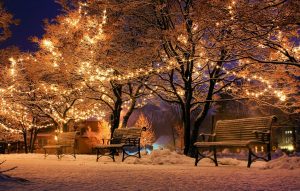 "Love came down at Christmas,
Love all lovely, Love Divine"
– Christina Rossetti
Holidays are filled with shared traditions and shared experiences.  This Christmas holiday, we can share an hour of music together, composed and performed by talented women.
Holiday Music:
Jennifer Higdon (text by Christina Rossetti):  Love Came Down
Maureen McKay, soprano; Stacey Shames, harp
Essential Voices USA; Judith Clurman, director
"Essential Voices USA"
Sono Luminus 70003
June Collin (text by James Morgan):  The Quiet Heart
King's Singers
"Christmas Carols with the King's Singers"
Signum Classics 683
Conrad Susa:  Christmas Garland
Philovox Ensemble of Boston; Jennifer Lester, conductor
"Conrad Susa: Carols & Lullabies"
Arsis 130
Elizabeth Poston:  O Bethlehem, from 2 Carols dedicated to Peter Warlock
Belfast Cathedral Choir; Matthew Owens, conductor
"A Belfast Christmas"
Resonus Classics 10292
Larysa Kuzmenko: Gloria
Belle Voce Women's Chorus of Vermont
"Tapestry of Song"
Bella Voce 41544
Augusta Holmès:  Trois Anges Sont Venus se Soir!
Ensemble Vocal Arts-Quebec; Matthias Maute, conductor
"Art Choral, Vol. 7 Noel"
Atma 22426
Cecilia McDowall:  A Winter's Night
Winchester College Chapel Choir; Onyx Brass
Benjamin Cunningham, organ
Howard Ionascu, conductor
"A Winter's Night"
Signum Classics 646
Run time:  58:30
Feminine Fusion highlights the roles of women in classical music. Host Diane Jones brings you stories and music of the women who create, perform, and inspire. Produced in the studios at WCNY-FM.
◄ Back to News