Feminine Fusion
S06 Ep20: High Strung, Part 4
by Diane Jones
January 15, 2022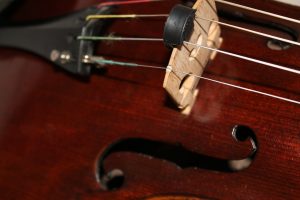 "In music you can find your own niche. You can do what you want to do. There is really no job description. You have to find your own way, and that's fun." – Hilary Hahn
Feeling a bit high strung?  This week, that's a good thing.  We'll hear performances across the years from women playing violin and viola.
High Strung, Part 4
Henryk Wieniawski:  Scherzo-Tarantella
Ida Haendel, violin
Adela Kotowska, piano
"Ida Haendel: Works for Violin and Piano"
Decca 455488
J.S. Bach:  Violin Concerto in G minor, BWV 1056
Viktoria Mullova, violin
Mullova Ensemble
"J.S. Bach Violin Concertos"
Phillips 446675
Josef Suk:  Liebeslied
Janine Jansen, violin
Antonio Pappano, piano
"12 Stradivari"
Decca 4851605
Pablo de Sarasate:  Sérénade andalouse, Op. 28
Julia Fischer, violin
Milana Chernyavska, piano
"Julia Fischer: Sarasate"
Decca 4785950
Maria Newman:  Two Dances for Deliverance
Maria Newman, viola
"Chamber Works of Maria Newman & Alfred Newman"
Raptoria 1004
Benjamin Britten: Lachrymae: Reflections on a song of Dowland
Kim Kashkashian, viola
Chamber Orchestra of Stuttgart; Dennis Russell Davis, conductor
"Lachrymae"
ECM 1506
Run time:  58:30
Feminine Fusion highlights the roles of women in classical music. Host Diane Jones brings you stories and music of the women who create, perform, and inspire. Produced in the studios at WCNY-FM.
◄ Back to News