Feminine Fusion
S06 Ep29: Bold and Brassy, Part 3
by Diane Jones
March 19, 2022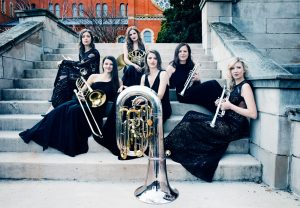 "Brass has a very distinctive sound.  It's delicate but powerful, but it's also melancholic and plaintive."  – Johann Johannsson
Look at the brass section of a band or orchestra, and you won't see many women there.  This episode is different.  We have an hour filled with brass music performed by some marvelously talented brass players – all women.
Bold and Brassy, Part 3
Felix Mendelssohn:  Scherzo, from A Midsummer Night's Dream
Seraph Brass
"Asteria"
Summit Records 709
Jennifer Higdon:  Trumpet Songs
Raquel Samayoa, trumpet
Michael Schneider, piano
"Trumpet Songs"
Summit Records 790
Frank Ticheli:  Concertino for Trombone and Band
Ava Ordman, trombone
Michigan State University Wind Symphony; John Whitwell, conductor
"Simple Gifts: The Music of Frank Ticheli, Vol. 2"
Mark Masters 4838
Barbara York:  Shamanic Journey
Deanna Swoboda, tuba
"Shamanic Journey"
Potenza Music
Mieczyslaw Weinberg:  Trumpet Concerto
Selina Ott, trumpet
ORF Vienna Radio Symphony Orchestra; Dirk Kaftan, conductor
"Concertos for Trumpet and Piano"
Orfeo 220011
Run time:  58:29
Feminine Fusion highlights the roles of women in classical music. Host Diane Jones brings you stories and music of the women who create, perform, and inspire. Produced in the studios at WCNY-FM.
◄ Back to News