Feminine Fusion
S06 Ep50: Patchwork Quilt, Part XXXIV
by Diane Jones
August 13, 2022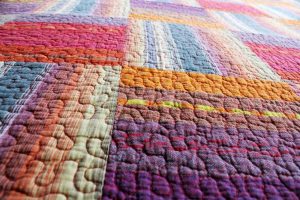 "Music is the great uniter.  An incredible force.  Something that people who differ on everything and anything else can have in comon."  – Sarah Dessen
Once more, it's time to add a block to our Patchwork Quilt.  And it's an incredible variety this week – works for saxophone, flute, even a concerto.  Let's enjoy these wonderful works.
Patchwork Quilt, Part XXXIV
Pablo Ziegler:  Sandunga, from "Suite Canyengue"
Susan Palma-Nidel, flute; Borromeo String Quartet
"elegante"
Flutewine Productions
Barbara York:  Three Odd Dances
Glen Gillis, saxophone; Bonnie Nicholson, piano
"Saxspectrum 3"
MSR Classics 1712
Eleanor Alberga:  Two-Piano Suite
Nyaho/Garcia Piano Duo
"Five By Four"
MSR Classics 1753
Barbara Harbach:  The Sound The Stars Make Rushing Through the Sky
London Philharmonic Orchestra; David Angus, conductor
"Music of Barbara Harbach: Orchestra Music VI: The Sound the Stars Make"
MSR Classics 1714
Alyssa Morris:  Forecast
Alyssa Morris, oboe; Kansas State University Percussion Ensemble
"Ruminations"
MSR Classics 1729
Run time:  58:30
Feminine Fusion highlights the roles of women in classical music. Host Diane Jones brings you stories and music of the women who create, perform, and inspire. Produced in the studios at WCNY-FM.
◄ Back to News