Feminine Fusion
S07 Ep03: Autumn in the Air
by Diane Jones
September 17, 2022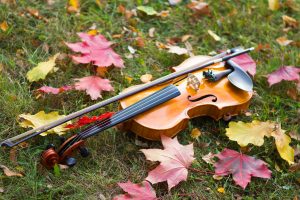 "Fall, leaves, fall; die, flowers, away;
Lengthen night and shorten day"
– Emily Brontë
There's a chill in the air, the leaves are starting to crunch underfoot, and composers are writing works to mark the change of seasons.  It's Autumn in the Air, this week on Feminine Fusion.
Autumn in the Air
Sofia Hultquist:  Last Weekend of Summer, and Our Tree, from "Summering"
Studio orchestra
"Summering: Original Motion Picture Soundtrack"
Madison Gate Records 56797
Jennifer Higdon:  Autumn Music
Musical Arts Woodwind Quintet
"American Breeze"
Albany 1369
Margaret Brandman:  Autumn Rhapsody
Margaret Brandman, piano
"Sensations:  Wind, Waves, Birds & Fire"
Navona 6041
Amy Beach:  In Autumn, from Four Sketches, Op. 15
Kimberly Schmidt, piano
"Women at an Exposition"
Koch International 7240
Kathryn Rose, on a poem by Emily Brontë:  Fall, leaves fall
Singer Pur
"Singer Pur:  Among Whirlwinds"
Oehms 1723
Fanny Mendelssohn Hensel:  September, from Das Jahr
Wolfram Lorenzen, piano
"Das Jahr"
Troubadisc 01419
Thea Musgrave:  Autumn, from The Seasons
Scottish National Orchestra; Nicholas Kraemer, conductor
"Musgrave:  Memento Vitae; Helios, Night Music, & The Seasons"
NMC 074
Roxanna Panufnik:  Autumn in Albania
Tasmin Little, violin/conductor
BBC Symphony Orchestra
"A Violin for All Seasons"
Chandos 5175
Run time:  58:30
Feminine Fusion highlights the roles of women in classical music. Host Diane Jones brings you stories and music of the women who create, perform, and inspire. Produced in the studios at WCNY-FM.
◄ Back to News