Feminine Fusion
S07 Ep04: Winds of Change
by Diane Jones
September 24, 2022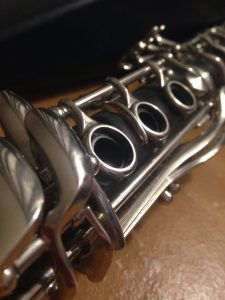 "One of those lovelorn sonatas for wind instruments was riding past on a solemn white horse.  Everybody wondered who the new arrival was."  – John Ashbery
This week we take a listen to women playing woodwinds!  Sounds of the flute, oboe, bassoon and clarinet all fill the air in this episode.
Winds of Change
Eugene Bozza:  Image
Olga Reiser, flute
"Flute Tales"
Solo Musica 375
Lowell Lieberman:  Sonata for Flute and Harp
Odile Renault, flute; Elodie Reibaud, harp
"Musikalische Perlen"
Ars Produktion
Robert K. Mueller:  Commemoration: In Honor of Fallen Heroes
Theresa Delaplain, oboe; Tomoko Kashiwagi, piano
"Souvenirs"
MSR Classics 1691
Madeleine Dring:  Trio for oboe, bassoon and piano
Three Wood Trio
(Rebecca Mindock, oboe; Kirsten Boldt-Neurohr, bassoon; Laurie Anne Hunter, piano)
"Three Wood Trio"
Centaur 3226
W.A. Mozart:  Clarinet Concerto in A Major, K. 6221 (Mvt. 2)
Annelien van Wauwe, clarinet
North German Radio Philharmonic Orchestra; Andrew Manze, conductor
"Mozart Clarinet Concerto"
Pentatone 5187015
Run time:  58:30
Feminine Fusion highlights the roles of women in classical music. Host Diane Jones brings you stories and music of the women who create, perform, and inspire. Produced in the studios at WCNY-FM.
◄ Back to News