Feminine Fusion
S07 Ep06: What's In A Name?
by Diane Jones
October 8, 2022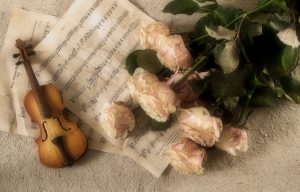 "For what's in a name?  Would not that which we call a rose by any other name smell as sweet?" – William Shakespeare, Romeo & Juliet
How does an ensemble choose their name?  That's the question posed this week.  A painter, a nun, even a comic strip, all inspired these ensembles.
What's In A Name?
Traditional, arr. Danielle Kuhlmann:  The Trees They Grow So High
Genghis Barbie
"2 Legit"
Independent
Margaret Brouwer:  Crosswinds
Cassatt String Quartet
"Margaret Brouwer: Crosswinds"
CRI 821
Gabriela Lena Frank:  Four Folk Songs
Claremont Trio
"Queen of Hearts"
Tria Records
Nico Muhly:  Fast Dances
Duo Scorpio
"Two Bridges"
American Modern Recordings 1047
Ariel Ramírez & Félix Luna, arr. Emilio Solla:  Alfonsina y el mar
ATLYS
"ATLYS"
Independent
Alessandro Marcello:  Concerto in C Major
Kassia Ensemble
Mary Elizabeth Bowden, trumpet
"Rêverie"
Summit 743
Run time:  58:30
Feminine Fusion highlights the roles of women in classical music. Host Diane Jones brings you stories and music of the women who create, perform, and inspire. Produced in the studios at WCNY-FM.
◄ Back to News