Feminine Fusion
S07 Ep11: Plucked, Part 4
by Diane Jones
November 12, 2022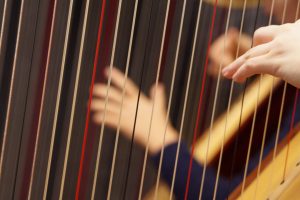 "Traveling with a harp is like being in charge of a huge, lovely, but precariously delicate companion." – Nancy Allen
Guitar, harp, harpsichord – this week we hear works and performances from women playing plucked instruments.
Plucked, Part 4
Claude Debussy, arr. Nancy Allen:  Arabesque No. 1 in E Major
Nancy Allen, harp
"Nancy Allen: Harp"
Angel/EMI 47520
Henriette Renié:  Pièce symphonique
Melinda Zak, harp
"Enchanted Hour"
Centaur 2836
Carlo Domeniconi:  Koyunbaba
Sylvie Proulx, guitar
"Sirocco"
Centaur 3053
Gaspard Le Roux:  Suite No. 5 in F Major
Lisa Goode Crawford & Mitzi Meyerson, harpsichords
"Gaspard Le Roux: Pièces de clavecin"
Harmonia Mundi 901660
Naomi Shemer:  Four Songs
Sharon Isbin, guitar
"Dreams of a World"
Teldec 25736
Run time:  58:30
Feminine Fusion highlights the roles of women in classical music. Host Diane Jones brings you stories and music of the women who create, perform, and inspire. Produced in the studios at WCNY-FM.
◄ Back to News