Feminine Fusion
S07 Ep13: Patchwork Quilt, Part XXXIV
by Diane Jones
November 26, 2022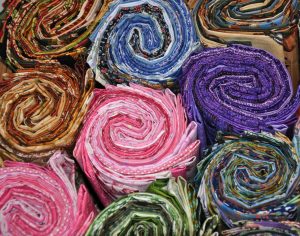 "Music is the silence between the notes."  – Claude Debussy
The winter snows are starting to fall in the northeast, so it's a perfect time to add another block to our Patchwork Quilt.
Patchwork Quilt, Part XXXIV
Claude Debussy:  La plus que lente
Suzanne Shulman, flute; Erica Goodman, harp
"Being Golden"
Wolftone Media 22061
J.S. Bach:  Sonata in E Major, BWV 1035
Julie Scolnik, flute; Sophie Scolnik-Brower, piano
"J.S. Bach: Complete Sonatas for Flute & Piano"
Navona 6468
Heitor Villa-Lobos, arr. Seunghee Lee:  Bachianas Brasileiras No. 5 (Cantilena)
Seunghee Lee, clarinet
Cellists of the London Symphony Orchestra
"Aspire"
Musica Solis 71042
Tara Guram:  Piano Sonata
Anna Kislitsyna, piano
"Piano Spectrums"
Navona 6413
Monsieur de Sainte-Colombe:  Prelude
Johanna Rose, gamba
"7 Movements"
Rubicon 1101
J.S. Bach:  Cello Suite No. 5 (excerpts)
Johanna Rose, gamba
"7 Movements"
Rubicon 1101
Run time:  58:30
Feminine Fusion highlights the roles of women in classical music. Host Diane Jones brings you stories and music of the women who create, perform, and inspire. Produced in the studios at WCNY-FM.
◄ Back to News