Feminine Fusion
S07 Ep15: Bold and Brassy, Part 4
by Diane Jones
December 10, 2022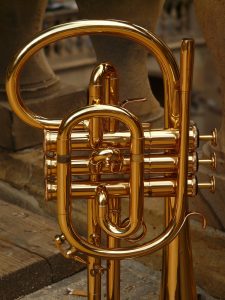 "Be bold enough to use your voice, brave enough to listen to your heart, and strong enough to live the life you have always imagined."  – Anonymous
Despite our best efforts, there is still a gender bias for aspiring brass players.  One way to overcome this bias is simply by visibility – seeing women in roles that are unexpected, and make aspiring musicians realize they can follow that same path.
"Bold and Brassy, Part 4"
Nicolo Paganini:  Caprice No. 24
Alison, Balsom, trumpet
"Caprice"
Angel/EMI 53255
Herman Bellstedt:  Piece de Concert
Raquel Rodriquez, cornet
Jan Corrothers, piano
"Cincinnati Virtuosity – The Cornet Solos of Frank Simon and Herman Bellstedt"
CD Baby
Alessandro Marcello:  Concerto in C Minor
Mary Elizabeth Bowden, trumpet
Kassia Ensemble
"Rêverie"
Summit Records 743
Robert Suderburg:  Night Set
Maureen Horgan, trombone
Robert Suderberg, piano
"Moe's Bit o'Blues"
Centaur 3241
Antonio Rosetti:  Horn Concerto in E Major
Sarah Willis, horn
Chamber Orchestra of Mannheim; Johannes Moesus, conductor
"Rosetti – Horn Concertos"
CPO 7772882
Astor Piazzolla:  Libertango
Alison Balsom, trumpet
Gothenburg Symphony Orchestra: Edward Gardner, conductor
"Caprice"
Angel/EMI 53255
58:30
Feminine Fusion highlights the roles of women in classical music.  Host Diane Jones brings you stories and music of the women who create, perform, and inspire.  Produced in the studios at WCNY-FM.
◄ Back to News