Feminine Fusion
S07 Ep38: The Future is Now
by Diane Jones
May 20, 2023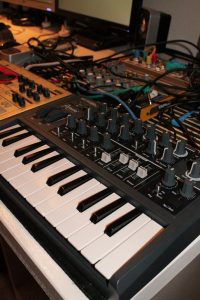 "I don't want [my music] played back to me the way I wrote it, I want to hear it in a different perspective."  – Jlin
Composers have often looked to create new and different soundworlds with their compositions.  The women featured in this episode use electronic and electroacoustic tools to bring the classical music soundworld to a new level.
The Future is Now:
Alex Shapiro:  Deep
Leslie Lashinsky, contrabassoon; Dan Morris, percussion
"Notes from the Kelp"
Innova 683
Paula Matthusen:  on the imagined relations of night sounds (and silent darkness)
Andy Kozar, trumpet
"A Few Kites"
New Focus Recordings 262
Gity Razaz:  Metamorphosis of Narcissus
Metropolis Ensemble; Andrew Cyr, conductor
"The Strange Highway"
BIS 2634
Jlin:  Perspective (excerpts)
Third Coast Percussion
"Perspectives"
Cedille 210
Jenny Olivia Johnson:  Reflect Reflect Respond Respond
Wild Rumpus
"Vestige"
Pinna Records 713424
Run time:  58:29
Feminine Fusion highlights the roles of women in classical music. Host Diane Jones brings you stories and music of the women who create, perform, and inspire. Produced in the studios at WCNY-FM.
◄ Back to News