Feminine Fusion
S07 Ep40: Folktales, Part 3
by Diane Jones
June 3, 2023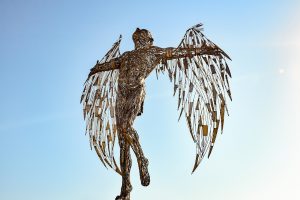 "We tell ourselves stories in order to live."  – Joan Didion
Music tells stories, and this week brings music from women that tells of fables, myths, and legends.
Folktales, Part 3
Harry Farjeon:  Pictures from Greece, Op. 13 (excerpts)
Zoe Samsarelou, piano
"Ek-stasis"
Divine Art 21237
Missy Mazzoli:  Orpheus Undone
Arctic Philharmonic; Tim Weiss, conductor
"Missy Mazzoli: Dark with Excessive Bright"
BIS 2572
Judith Shatin:  Penelope's Song
Borup-Ernst Duo
"Tower of the Eight Winds"
Innova 770
Debra Kaye:  Ikarus Among the Stars
Portland Youth Philharmonic; David Hattner, conductor
"Ikarus Among the Stars: Music of Debra Kaye"
Navona 6521
Shirley Mier:  Legend of the White Bear (Manitou Island)
Croatian Chamber Orchestra; Miran Vaupotic, conductor
"Legends and Light"
Navona 6187
Run time:  58:29
Feminine Fusion highlights the roles of women in classical music. Host Diane Jones brings you stories and music of the women who create, perform, and inspire. Produced in the studios at WCNY-FM.
◄ Back to News