Feminine Fusion
S07 Ep42: Summer Sun
by Diane Jones
June 17, 2023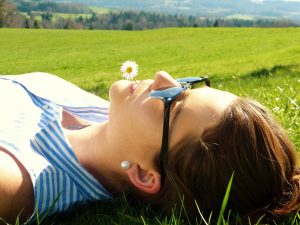 "A summer's day blooms wildly, Greens tipped with a rainbow hue, The light is almost equal now Between day and night, what a view" – Kate Anderson, from Summer's Sun
Warm days and gentle breezes.  Music by women who were inspired by the season and the sun.
Summer Sun
Lena Johnson McLin:  A Summer Day
Helen Walker-Hill, piano
"Kaleidoscope: Music by African-American Women"
Leonarda 339
Roxanna Panufnik:  Indian Summer, from Four World Seasons
Tasmin Little, violin/conductor
BBC Symphony Orchestra
"A Violin for All Seasons"
Chandos
Judith Lang Zaimont:  Russian Summer
Peter Winograd, violin; Peter Wyrick, cello; Joanne Polk, piano
"Judith Lang Zaimont"
Sorel Classics 003
Jennifer Higdon:  Soft Summers, from Southern Harmony
Ying Quartet
"United States"
Quartz 2055
Sally Beamish:  The Imagined Sound of Sun on Stone
John Harle, saxophone
Swedish Chamber Orchestra; Ola Rudner, conductor
"The Imagined Sound of Sun on Stone"
BIS 1161
Hania Rani:  Sun
Lavinia Meijer, harp
"The Arts and the Hours"
Sony Classical
Run time:  58:29
Feminine Fusion highlights the roles of women in classical music. Host Diane Jones brings you stories and music of the women who create, perform, and inspire. Produced in the studios at WCNY-FM.
◄ Back to News