Feminine Fusion
S07 Ep45: Across the Pond, Part 2
by Diane Jones
July 8, 2023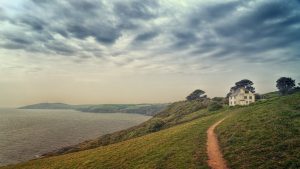 "A rainbow is a promise everything is going to be ok."  – Alexandra Whittingham
Classical music is an integral part of culture in the UK, and new classical music is warmly received across the country.  This episode features musicians and composers living and working in the UK.
"Across the Pond, Part 2"
Traditional, arr. Kerry Andrews:  All Things are Quite Silent
Blossom Street Singers; Hilary Campbell, conductor
"Down by the Sea"
Naxos 8573069
Charlotte Bray:  Passing Shadows
Antonis Hatzinikolaou, guitar
"Music of Memory"
NMC 184
Kerenza Peacock:  Rainbow
Kerenza Peacock, violin/conductor
Leanne Sinha, Patrick Savage, Ruth Funnell, Helen Davies, Libby Croad, Emma Blanco – violin
Becky Jones, Steve Doman – viola
Bryony James, Sarah McMahon – cello
Ben Russell – doublebass
"Rainbow"
Independent
Zoltán Kodály:  Sonata for Cello & Piano, Op. 4, Mvt. 1
Laura van der Heijden, cello
Jâms Coleman, piano
"Pohádka: Tales from Prague to Budapest"
Chandos 20227
Giulio Regondi:  Introduction and Caprice, Op. 23
Alexandra Whittingham, guitar
"My European Journey"
Delphian 34248
Florence Price:  Piano Concerto in One Movement
Jeneba Kanneh-Mason, piano
Chineke! Orchestra; Leslie Suganandarajah, conductor
"Florence Price: Piano Concert in One Movement & Symphony No. 1"
Decca 4853996
Run time:  58:30
Feminine Fusion highlights the roles of women in classical music. Host Diane Jones brings you stories and music of the women who create, perform, and inspire. Produced in the studios at WCNY-FM.
◄ Back to News