Feminine Fusion
S07 Ep47: Strung Along, Part 2
by Diane Jones
July 22, 2023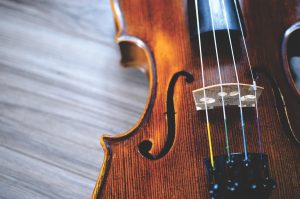 "Even though I am the only live performer in each piece, it never feels like a solo.  I actually feel that I am in a way performing with the composer.'"  – Yvonne Lam, violin
Over the centuries, the acceptance and propriety of women playing stringed instruments has varied widely.  In Victorian England, women who insisted on playing cello did so sitting side-saddle, so as not to place the instrument between their legs.  We've come a long way since then.  On this episode, performances from some of today's best string players.
"Strung Along, Part 2"
Leonard Bernstein:  Make Our Garden Grow, from "Candide"
Ofra Harnoy, cello
Mike Herriott, trumpet
H&H Studio Orchestra
"Portrait"
H&H Records
Zoltan Kodaly:  Adagio
Nobuko Imai, viola
Roland Pöntenen, piano
"Viola Bouquet"
Philips 446103
Irene Britton Smith:  Sonata for Violin and Piano
Dawn Wohn, violin
Emely Phelps, piano
"Unbounded: Music by American Women"
Delos 3599
Henry Purcell:  Fantazias (selected)
Wildcat Viols
"The Magnifick Consort of Four Parts"
Independent
Nathalie Joachim:  Watch Over Us
Yvonne Lam, violin
"Watch Over Us"
Blue Griffin Recordings
Run time:  58:30
Feminine Fusion highlights the roles of women in classical music. Host Diane Jones brings you stories and music of the women who create, perform, and inspire. Produced in the studios at WCNY-FM.
◄ Back to News