Feminine Fusion
S08 Ep02: High Winds Blowing
by Diane Jones
September 9, 2023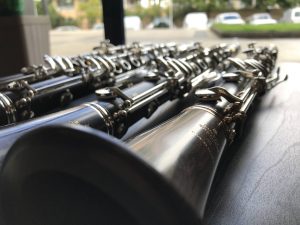 "Life is not measured by the number of breaths we take, but by the moments that take our breath away."   – Maya Angelou
This week, the first of two programs showcasing the woodwinds.  Piccolo, flute, clarinet – these are wonderful performances from talented women.
"High Winds Blowing"
Helen Walker:  Two Pieces for Piccolo and Piano
Sarah Waycott, piccolo; Yanna Zissiadou, piano
"Animo Two"
Ravello 8079
Alyssa Morris:  Ruminations
Alyssa Morris, oboe
"Ruminations – Music for Oboe, English Horn, and Piano by Alyssa Morris"
MSR Classics 1729
Gerald Finzi:  Five Bagatelles for Clarinet and Piano
Emma Johnson, clarinet
Malcolm Martineau, piano
"Finzi & Stanford: Clarinet Concertos"
ASV 787
Randy Woolf:  … nobody move …
Gina Izzo, flute; Erika Dohi, piano
"gathering blue"
Panoramic Recordings 003
Anna Elana Cohen: Watercolors of the Master Who is Accustomed to Paint Oils
Lindsey Goodman, flute
Robert Frankenberry, piano
"Etero"
Navona 6265
Samuel A. Livingston:  Quiet Summer Night
Yhasmin Valenzuela, clarinet
Pedroia String Quartet
"Chamber Music of Samuel A. Livingston"
Navona 6197
58:29
Feminine Fusion highlights the roles of women in classical music.  Host Diane Jones brings you stories and music of the women who create, perform, and inspire.  Produced in the studios at WCNY-FM.
◄ Back to News