Feminine Fusion
S08 Ep07: Black and White, Part 2
by Diane Jones
October 14, 2023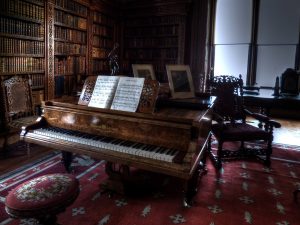 "I just want to see the classical music world embracing all music because that is a responsibility of our country.  I do it because everyone deserves a voice and because it's good music." – Michelle Cann
This week, a world of black and white – the joys and harmonies brought out through the keys of the piano, when played with mastery.
"Black and White, Part 2"
Francisco Tarrega, arr. Kristina Marinova:  "Recuerdos de la Alhambra"
Kristina Marinova, piano
"Loves Me Not"
Navona 6526
Modest Mussorgsky, arr. Konstantin Chernow:  A Night on Bald Mountain
Sonya Bach, piano
"Sonya Bach: Mussorgsky"
Rubicon 1118
W.A. Mozart:  Piano Sonata No. 2 in F Major, K. 280
Orli Shaham, piano
"Complete Piano Sonatas, Vol. 4"
Canary Classics 23
Mel Bonis:  Scènes enfantines
Mengyiyi Chen, piano
"Mel Bonis: Complete Music for Solo Piano, Volume 1"
Toccata Classics 361
Margaret Bonds:  Spiritual Suite
Michelle Cann, piano
"Revival"
Curtis Studio
58:29
Feminine Fusion highlights the roles of women in classical music.  Host Diane Jones brings you stories and music of the women who create, perform, and inspire.  Produced in the studios at WCNY-FM.
◄ Back to News