Feminine Fusion
S08 Ep08: Plucked, Part 5
by Diane Jones
October 21, 2023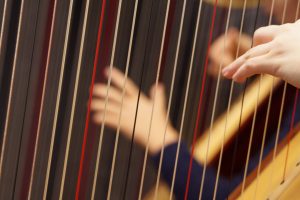 "Music takes people out of this world an dinto another for a period of time." – Sharon Isbin
Plucked instruments – harp, harpsichord, and guitar – fill the hour on this episode.
"Plucked, Part 5"
Kirsten Agresta-Copley:  Coralline
Kirsten Agresta-Copley, harp
"Aquamarine"
Valcope Recording Company
Arturo Rodríguez:  Saudade
Janet Paulus, harp
Solistas de Minería; Carlos Miguel Prieto, conductor
"The Mexican Harp"
Toccata Classics 027
Arturo Sandoval:  Wildflower
Yolanda Kondonassis, harp
"Five Minutes for Earth"
Azica 71349
Edwin McLean:  Sonata No. 3
Elaine Funaro, harpsichord
"The Music of Edwin McLean"
Alienor Records 84239
Mathias Duplessy:  Le labyrinthe de Vermeer & Valse pour Camille
Zsófia Boros, guitar
"El último alienato"
ECM New Music
Joan Tower:  Snow Dreams
Sharon Isbin, guitar
Carol Wincenc, flute
"Black Topaz"
New World 80470
58:29
Feminine Fusion highlights the roles of women in classical music.  Host Diane Jones brings you stories and music of the women who create, perform, and inspire.  Produced in the studios at WCNY-FM.
◄ Back to News