Feminine Fusion
S08 Ep09: Autumn Harvest
by Diane Jones
October 28, 2023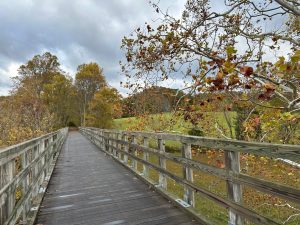 "In the deep fall
don't you imaging the leaves think how
comfortable it will be to touch
the earth instead of the
nothingness of air and the endless
freshets of wind?"                     – Mary Oliver, "Song for Autumn"
A harvest of music from around the globe inspired by Autumn in the air.
"Autumn Harvest"
Dulcie Holland:  The Fallen Leaf
Cynthia Green Libby, oboe; Peter Collins, piano
"Daystream Dances: Women Composers for Oboe"
Hester Park 7707
Anna-Lena Laurin:  Autumn Fields
Amalie Stalheim, cello
Malmö Symphony Orchestra; Paul Mägi, conductor
"Anna-Lena Laurin: Orchestral Works"
Vanguard Music Boulevard 145
Mary Mageau:  An Early Autumn's Dreaming
Polish Radio & TV Symphony Orchestra, Krakow; Szymon Kawalla, conductor
"I Am An American Woman"
Vienna Modern Masters 3029
Jennifer Higdon:  Autumn Reflections
Susan Glaser, flute; John Novacek, piano
"Jennifer Higdon: Summer Shimmers"
Koch International 7738
Margaret Brandman:  Autumn Rhapsody
Margaret Brandman, piano
"Sensations:  Wind, Waves, Birds & Fire"
Navona 6041
Su Lian Tan:  Autumn Lute Song
Carol Wincenc, flute; John McDonald, piano
"Pansync"
Arsis Audio 201
58:29
Feminine Fusion highlights the roles of women in classical music.  Host Diane Jones brings you stories and music of the women who create, perform, and inspire.  Produced in the studios at WCNY-FM.
◄ Back to News