Feminine Fusion
S08 Ep10: With a Song in Her Heart, Part 3
by Diane Jones
November 4, 2023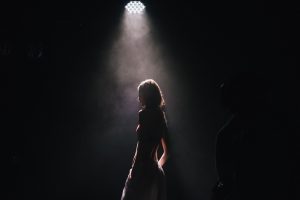 "The only thing better than singing is more singing." – Ella Fitzgerald
Vocalists take center stage in this episode of Feminine Fusion.  We'll listen to recordings, old and new, of some of the most talented women to sing for an audience.
"With a Song in Her Heart, Part 3"
Alexandre Lunsqui:  Solis
Corrine Byrne, soprano
Andy Kozar, trumpet (Byrne:Kozar Duo)
"It Floats Away From You"
New Focus Recordings 378
Charles Fernandez:  Songs From A Child's Point Of View
Melissa Fahn, soprano
Royal Philharmonic Orchestra; Charles Fernandez, conductor
"Sentimental and Animated"
Trone Music 1
William Bolcom (poem by Jane Kenyon): Let Evening Come
Benita Valente, soprano; Michael Tree, viola; Cynthia Raim, piano
"Let Evening Come; Briefly It Enters; Cabaret Songs Vol. 3 & 4"
Centaur 2464
Esa-Pekka Salonen:  Five Images After Sappho
Dawn Upshaw, soprano
London Sinfonietta; Esa-Pekka Salonen, conductor
"LA Variations"
CBS/Sony 89158
Antonio Caldara:  Tanto, e con si gran piena (from Gianguir)
Cecilia Bartoli, soprano; Sol Gabetta, cello
Cappella Gabetta; Andrés Gabetta, concertmaster
"Dolce Duello"
Decca 483473
58:30
Feminine Fusion highlights the roles of women in classical music.  Host Diane Jones brings you stories and music of the women who create, perform, and inspire.  Produced in the studios at WCNY-FM.
◄ Back to News