Feminine Fusion
S08 Ep12: Elemental Music: Earth, Part 2
by Diane Jones
November 18, 2023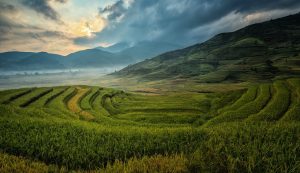 "You carry Mother Earth within you.  She is not outside of you.  Mother Earth is not just your environment." – Thich Nhat Hanh
Earth is grounding and inspiring.  This week, music by women inspired by the Earth and all it has to offer.
"Elemental Music: Earth, Part 2"
Tina Davidson:  The Blue Curve of the Earth
Hilary Hahn, violin
Corey Smythe, piano
"Retrospective"
Deutsche Grammophon 4798295
Outi Tarkiainen:  The Earth, Spring's Daughter
Virpi Räisänen, mezzo-soprano
Lapland Chamber Orchestra; John Storgårds, conductor
"The Earth, Spring's Daughter/Saivo"
Ondine Records 1353
Dobrinka Tabakova:  Earth Suite (excerpt)
Halle Orchestra; Delyana Lazarova, conductor
"Dobrinka Tabakova: Orpheus' Comet, Earth Suite, & Concertos"
Halle 7562
Susan Botti:  Terra Cruda
Hartt School Wind Ensemble; Glen Adsit, conductor
"Raw Earth: New Music for Wind Band"
Naxos 8573342
Lori Laitman:  The Earth and I
Washington Master Chorale; Thomas Colohan, director
"The Earth and I: New American Choral Music"
Albany 1454
58:30
Feminine Fusion highlights the roles of women in classical music.  Host Diane Jones brings you stories and music of the women who create, perform, and inspire.  Produced in the studios at WCNY-FM.
◄ Back to News