Feminine Fusion
S4-06: Patchwork Quilt, Part XVI
by Diane Jones
October 12, 2019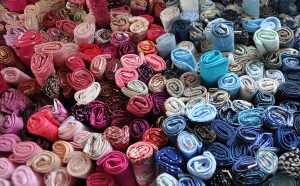 "We are all patchwork, and so shapeless and diverse in composition that each bit, each moment, plays its own game."  – Michel de Montaigne
Every couple of months I bring you a Patchwork Quilt episode.  This is music and performances by women with no special theme tying the works together – just beautiful music.
"Patchwork Quilt, Part XVI"
Theodora Cormontan:  The Evening Sentiments
Bonnie Jorgensen, piano
"The Music of Theodora Cormontan"
Independent Label
Benjamin Godard:  Berceuse de Jocelyn
Debra Wendells Cross, flute; Barbara Chapman, harp
"Dream Sweet Dreams"
Independent Label
Louise Reichardt:  Sei Canzonie de Metastasio
Amy Pfrimmer, soprano; Dreux Montegut, piano
"The Lost Romantic: Songs of Louise Reichardt"
MSR Classics 1687
Frederic Chopin:  Etude Op. 10, No. 12 "Revolutionary Etude"
Umi Garrett, piano
"Storybook"
Independent Label
Arcangelo Corelli:  Sonata No. 8 in D minor, Op. 5
Ofra Harnoy, cello
"Back to Bach"
Analekta 2 8907
Joseph Harchanko:  Breath
Andrea Cheeseman, clarinet
"Somewhere"
Ravello Records 8018
Johann Johannsson:  The Theory of Everything Suite
Angèle Dubeau, violin; La Pietà
"Pulsations"
Analekta 2 8748
58:29
Feminine Fusion highlights the roles of women in classical music.  Host Diane Jones brings you stories and music of the women who create, perform, and inspire.  Produced in the studios at WCNY-FM.
◄ Back to News