Feminine Fusion
S4-16: Winter Music
by Diane Jones
December 21, 2019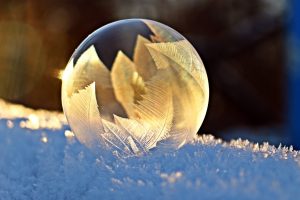 "The color of springtime is flowers; the color of winter is in our imagination."  – Terri Guillimets
We are heading toward the depths of winter here in the northern hemisphere.  It is a season marked by long nights and short days, when we start bundling up against the cold, often looking inward as we reflect on the season.  So grab some cocoa or a hot toddy, settle in by the fire, and take a listen to some winter music from medieval to modern times.
"Winter Music"
Judith Bingham:  The Darkness Is No Darkness
Voces8
"Winter"
Decca 4830968
Johann Melchior Molter:  Concerto Pastoral in G Major
Angèle Dubeau, violin; La Pietà
"Noël"
Analekta 8730
Mira J. Spektor:  Winter Lullaby
Maeve Höglund soprano; Jean-Paul Björlin piano
"Summer & Winter Songs"
Navona 6236
Traditional:  As I Lay On Yoolis Night
Anonymous 4
"On Yoolis Night"
Harmonia Mundi 907099
Conrad Susa:  Carols and Lullabies: Christmas in the Southwest (excerpts)
Musae
"Alegría y Placer: A Musae Christmas"
CD Baby
Maria Newman:  Lux Aeterna
Carrie Rehkopf, violin
Malibu Coast Chamber Orchestra; Scott Hosfeld
"Maria Newman: The Art of the Chamber Orchestra, Book II"
Montgomery Arts House 1205205
58:29
Feminine Fusion highlights the roles of women in classical music.  Host Diane Jones brings you stories and music of the women who create, perform, and inspire.  Produced in the studios at WCNY-FM.
◄ Back to News