Feminine Fusion
S4-18: Plucked, Part 2
by Diane Jones
January 4, 2020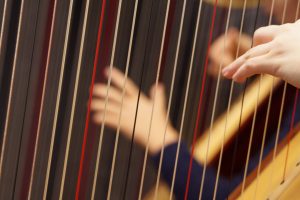 "And tears are heard within the harp I touch."  – Petrarch
This week, we focus on the Plucked family of instruments – guitar, harp, and harpsichord. Plus a few more intriguing medieval plucked instruments thrown in for good measure.  It's quite a mix of music!
"Plucked, Part 2"
Radames Gnattali:  Suite Retratos: II – Ernesto Nazareth (Valse)
Beijing Guitar Duo
'Maracaípe – Guitar Duos and Solos by Gnattali & Assad"
Tonar Music 91201
John Dowland:  Lacrime pavane & A Fancy
Mari Mäntylä, decacorde
"Decacorde"
Alba 261
John Duarte:  Appalachian Dreams
Sharon Isbin, guitar
"Dreams of a World"
Teldec 25736
Anonymous:  De schriuer van der nigen stat & Mit ganczem willen wünsch ich dir (from Rostocker Liederbuch)
Vader myn, ik en wil nicht mer tor scole gan – Tenor – Ligge stille, ligge stille  (fromRostocker Liederbuch)
Leah Stuttard, medieval harp
Agnethe Christensen, kantele & gussli
"Oluf Strangesøns Dyst/Joust – A Musical Scrapbook"
Modern Roots 001
Yusef Lateef:  Romance for soprano saxophone & harp
Admiral Launch Duo
"Launch"
Albany 1752
Francis Poulenc:  Concert champêtre (excerpt)
Maggie Cole, harpsichord
City of London Sinfonia; Sir Richard Hickox, conductor
"Poulenc – Concertos"
Erato 95220452
58:29
Feminine Fusion highlights the roles of women in classical music.  Host Diane Jones brings you stories and music of the women who create, perform, and inspire.  Produced in the studios at WCNY-FM.
◄ Back to News