Feminine Fusion
S4-27: At the Keyboard, Part 3
by Diane Jones
March 7, 2020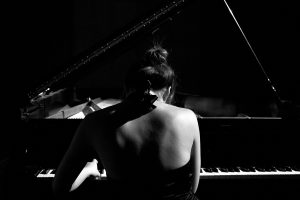 "Color is the keyboard, the eyes are the harmonies, the soul is the piano with many strings.  The artist is the hand that plays, touching one key or another, to cause vibrations in the soul."  – Wassily Kandinsky
The colors and emotions a talented pianist can pull from the instrument is amazing.  This episode features women at the keyboard in a variety of roles, from soloist to collaborative pianist.
"At the Keyboard, Part 3"
Carl Vine:  Bagatelle #3 and #5
Lindsay Garritson, piano
"Aphorisms"
Independent Label
Lili Boulanger:  Trois Morceaux pour Piano
Charlotte Mueller, piano
"Woman's Work"
MSR Classics 1160
W. A. Mozart:  Piano Concerto No. 6 in B-flat Major, K. 238
Anne-Marie McDermott, piano
Odense Symphony Orchestra; Scott Yoo, conductor
"Mozart Piano Concertos, Vol. 1"
Bridge 9518
Alexina Louie:  Warrior (from Scenes From A Jade Terrace)
Susan Chan, piano
"East West Encounter I"
MSR Classics 1245
Thea Musgrave:  Excursions
Iris Graffman Wenglin & Ruth Lomon, piano
"Hommage to Women Composers"
Navona 6254
Aurelio Magnani:  Elegia
Julie Nishimura, piano
Christopher Nichols, clarinet
"Elegia"
Navona 6120
58:29
Feminine Fusion highlights the roles of women in classical music.  Host Diane Jones brings you stories and music of the women who create, perform, and inspire.  Produced in the studios at WCNY-FM.
◄ Back to News