Feminine Fusion
S4-31: Award Winners
by Diane Jones
April 4, 2020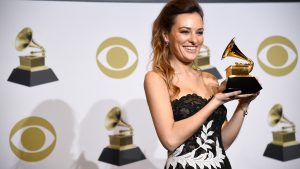 "If you have won a national award, it means you have done something great."  – Remo D'Souza
The most recent awards season has come and gone, and on this episode, we take a listen to performances from some marvelously talented instrumentalists who were recognized at the Grammy awards.
Award Winners
Mieczslaw Weinberg:  Symphony No. 21 "Kaddish" (excerpt)
Mirga Gražinytė-Tyla, conductor
City of Birmingham Symphony Orchestra; Kremerata Baltica
"Weinberg: Symphonies 2 & 21"
Deutsche Grammophon 483 6566
Sergei Prokofiev:  Piano Sonata No. 7 (excerpt)
Yuja Wang, piano
"The Berlin Recital"
Deutsche Grammophon 4836280
Gustav Holst:  Chaconne, from First Suite for Military Band, Op. 28, No. 1
Jan Kraybill, organ
"The Orchestral Organ"
Reference Recordings 145
Michael Torke:  Sky (excerept)
Tessa Lark, violin
Albany Symphony Orchestra; David Alan Miller
"Sky"
Albany 1784
Wynton Marsalis:  Violin Concert (excerpt)
Nicola Benedetti, violin
Philadelphia Orchestra; Cristian Măcelaru, conductor
"Wynton Marsalis/Nicola Benedetti: Violin Concerto/Fiddle Dance Suite"
Decca 0030521-02
Jennifer Higdon:  Harp Concerto (excerpt)
Yolanda Kondonassis, harp
Rochester Philharmonic; Ward Stare, conductor
"American Rapture"
Azica 71327
Run time:  58:29
Feminine Fusion highlights the roles of women in classical music. Host Diane Jones brings you stories and music of the women who create, perform, and inspire. Produced in the studios at WCNY-FM.
◄ Back to News