Feminine Fusion
S4-34: Around the World
by Diane Jones
April 25, 2020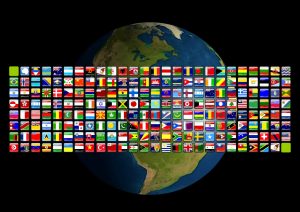 "We have all known the long loneliness and we have learned that the only solution is love and that love comes with community.."  – Dorothy Day
With each new technology, it seems our world gets smaller.  Now, more than ever, we are interacting with individuals across the globe, becoming a global community.  And this has allowed artists to incorporate their own unique cultural nuances into so-called "classical" music.  This week, we take a trip around the globe.
"Around the World"
Hamish Scott Henderson, John MacLennan:  Freedom Come All Ye
Pumeza Matshikiva, soprano
Phil Cunningham, whistle; Fiona Hamilton, fiddle; Mamadou Ndiaye Cissokho, percussion; Sura Susso,harp
"Voice of Hope"
Decca 4787605
Holly Harrison:  Vibe Rant
Ensemble Offspring
"Offspring Bites 2"
Bandcamp
Claude Debussy:  Violin Sonata
Kyung Wha Chung, violin
Radu Lupu, piano
"Franck, Debussy,  Ravel: Violin Sonatas"
Decca 4211542
Franz Liszt:  Mephisto Waltz No. 1
Donka Angatscheva, piano
"Liszt: Piano Works"
Gramola 98924
Adina Izarra:  Pitangus Sulphuratus (Flute Concerto)
Manuela Wiesler, flute
Musica Vitae; Peter Csaba, conductor
"Oiseaux tendres"
BIS 689
Jocelyn Morlock:  Solace
Vancouver Symphony Orchestra
Mark Fewer, violin; Zoltan Rozsnyai, cello
"Cobalt"
Centrediscs 20014
Run time: 59:29
Feminine Fusion highlights the roles of women in classical music. Host Diane Jones brings you stories and music of the women who create, perform, and inspire. Produced in the studios at WCNY-FM.
◄ Back to News