Feminine Fusion
S4-37: Water Music
by Diane Jones
May 16, 2020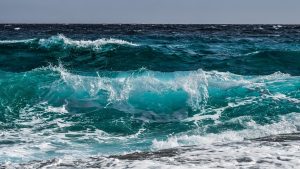 "Water, stories, the body, all the things we do, are mediums that hid and show what's hidden."  – Rumi
Cleansing. Healing, Flowing. Powerful. Transformative. These are words that apply to water, and to music.  Each are vital to life.  This episode is devoted to music inspired by water.
Water Music
Traditional, arr. by Moses Hogan:  Deep River
Duo Dolce
"Summerland: Music for Cello and Piano by Composers of African Descent"
MSR Classics 1752
Stacy Garrop:  The Lovely Sirens (from Mythology Symphony)
CCPA Symphony Orchestra; Alonda de la Parra, conductor
"Mythology Symphony: Orchestral Works by Stacy Garrop"
Cedille 90000 160
Jennifer Margaret Barker:  Blue Waters
Heather Corbett, vibraphone
"Nvaigs"
CRI 862
Margaret Brandman:  Undulations
Moravian Philharmonic Orchestra; Petr Vronsky, conductor
"Sensations: Wind, Waves, Birds & Fire"
Navona 6041
Kate Moore:  Stories for Ocean Shells
Ashley Bathgate, cello
"Stories for Ocean Shells"
Cantaloupe 21118
Luis Tinoco:  O Sotaque Azul das Aguas
Gulenkian Orchestra; Susanna Malkki, conductor
"The Blue Voice of the Water"
Odradek Records 365
Run time:  58:29
Feminine Fusion highlights the roles of women in classical music. Host Diane Jones brings you stories and music of the women who create, perform, and inspire. Produced in the studios at WCNY-FM.
◄ Back to News