Feminine Fusion
S4-39: Patchwork Quilt, Part XXI
by Diane Jones
May 30, 2020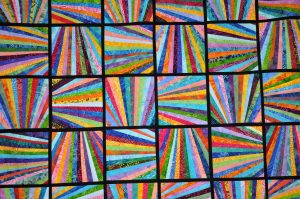 "Music doesn't lie.  If there is something to be changed in this world, then it can only happen through music."  – Jimi Hendrix
Why call this a "Patchwork Quilt" episode?  Well, sometime I have music that's come into the studio that I just want to share with you.  It may not fit neatly into a program theme, or it may have simply caught my attention and I couldn't wait.  And I'm a quilter, and I love the way seemingly disparate bits and pieces can come together to make a cohesive whole.  So it's time to add another musical block to our ever-expanding Patchwork Quilt.
Patchwork Quilt, Part XXI
Laura Netzel:  La Gondoliera, Op. 60
Paula Gudmundson, flute; Tracy Lipke-Perry, piano
"Breaking Waves"
MSR Classica 1722
Adolphus Hailstork:  Theme and Variations on "Draw the Sacred Circle Closer"
Kristen Yeon-Ji Yun, cello
"Summerland"
MSR Classica 1752
Bohuslav Martinu:  Primrose
Jitro Girls Choir; Jiri Skopal, conductor
"Openings"
Navona 6288
J.S. Bach:  Fantasia & Fugue in G minor, BWV 542
Elaine Rodrigues, piano
"Aeternum"
Navona 6285
Caroline Shaw:  The Listeners
Philharmonia Baroque Orchestra & Chorale
Nicholas McGegan, conductor; Bruce Lamott, chorale director
Avery Amereau, contralto; Dashon Burton, bass-baritone
"Caroline Shaw & PBO"
PBO 51-27
Run time:  58:29
Feminine Fusion highlights the roles of women in classical music. Host Diane Jones brings you stories and music of the women who create, perform, and inspire. Produced in the studios at WCNY-FM.
◄ Back to News