Feminine Fusion
S4-41: Glimmering Gold
by Diane Jones
June 13, 2020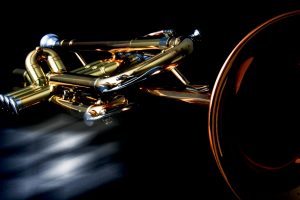 "The trumpet is loud.  I didn't want to sit in front of one."  – Merrie Klazek, on why she chose to play trumpet
More and more women are filling up the ranks of brass sections every year.  This week, performances from women who stepped outside expectations, and took up brass instruments.
Glimmering Gold
Astor Piazzolla:  Oblivion
Alison Balsom, trumpet
Guy Barker & The Guy Barker Orchestra
"Alison Balsom: Paris"
Warner Classics 2564632789
Robert Elhai: Water Awakening
Rebecca Cherian, trombone
Rodrigo Ojeda, piano
"Water Awakening"
RBC 1001
Alessandro Marcello:  Concerto in C minor
Mary Elizabeth Bowden, trumpet
The Kassia Ensemble
"Rêverie"
Summit 743
Trygve Madsen:  Trio for Violin, Horn & Piano
Frøydis Ree Wekre, horn; Atle Sponberg, violin; Tor Espen Aspaas, piano
"Ceros"
2L 25
Antonín Dvořák:  Rusalke, Op. 114
Merrie Klazek, trumpet
Jennifer Snow, piano
"Songs to the Moon"
Independent
Astor Piazzolla:  Verano porteño 
tenThing
"10"
EMI Classics?Warner Classics 5099908832
Run time:  58:29
Feminine Fusion highlights the roles of women in classical music. Host Diane Jones brings you stories and music of the women who create, perform, and inspire. Produced in the studios at WCNY-FM.
◄ Back to News