Feminine Fusion
S4-42: Summer Music
by Diane Jones
June 20, 2020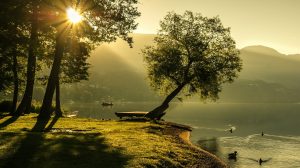 "When I was young
My brother and I used to go fishing
At a beautiful quiet pond amongst the fields
It was there that we discovered…
Summer Shimmers"
– Jennifer Higdon
The Summer Solstice marks the change of another season, and so this week we listen to Summer Music, performed and composed by these remarkable women.
Summer Music
George Gershwin:  Summertime, from Porgy & Bess
Anne Akiko-Meyers, violin
London Symphony Orchestra; Keith Lockhart, conductor
"Serenade: The Love Album"
e-one 7192
Edie Hill:  We Bloomed In Spring
The Crossing; Donald Nally, conductor
"Clay Jug"
Navona 6073
Traditional:  Summerisle (The Maypole Song)
Medieaval Babes
"Undrentide"
BMG 75605 51359 2
Mira J. Spektor:  White Road of Summer
Maeve Högland, soprano; Jean-Paul Björlin, piano
"Summer & Winter Songs"
Navona 6236
Paul Reade:  Suite from The Victoria Kitchen Garden
Seunghee Lee, clarinet; Katrine Gislinge, piano
"Full Circle"
Musica Solis
Astor Piazzolla:  Verano porteño, from Four Seasons in Buenos Aires
Nadja Salerno-Sonnenberg, conductor
New Century Chamber Orchestra
"Together"
NSS Music
Judith Lang Zaimont:  Russian Summer
Peter Winograd, violin; Peter Wyrick, cello; Joanne Polk, piano
"Judith Lang Zaimont"
Sorel Classics 003
William Bolcom:  Summer, from Second Sonata for Violin & Piano
Blue Violet Duo
"American Souvenirs"
Independent
Jennifer Higdon:  Summer Shimmers
Susan Glaser, flute
Lark Chamber Artists
"Summer Shimmers"
Koch International 7738
Run time:  58:29
Feminine Fusion highlights the roles of women in classical music. Host Diane Jones brings you stories and music of the women who create, perform, and inspire. Produced in the studios at WCNY-FM.
◄ Back to News