Feminine Fusion
S4-44: Independence Day
by Diane Jones
June 27, 2020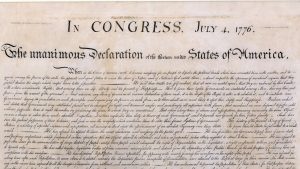 "We, therefore, the Representatives of the united States of America, in General Congress, Assembled, appealing to the Supreme Judge of the world for the rectitude of our intentions, do, in the Name, and by Authority of the good People of these Colonies, solemnly publish and declare, That these United Colonies are, and of Right ought to be Free and Independent States."
– July 4, 1776
As we mark our American Independence Day, we have music for you from American women highlighting the path we have taken thus far, and shining a light on the path that lies ahead.  We include music from the frontier, to the busy streets of New York city.
Independence Day
Joan Tower:  Fanfare for the Uncommon Woman No. 4
Colorado Symphony Orchestra; Marin Alsop, conductor
"Fanfares for the Uncommon Woman"
Koch International 7469
Mark O'Connor:  Americana Symphony (excerpts)
Baltimore Symphony Orchestra; Marin Alsop, conductor
"Mark O'Connor: Americana Symphony"
OMAC 12
Barbara Harbach: American Solstice
Ensemble Istropolis
"Music of Barbara Harbach: Chamber Music I"
MSR Classics 1253
Joan Tower:  Made in America
Nashville Symphony Orchestra; Leonard Slatkin, conductor
"Joan Tower: Made in America"
Naxos 8559328
Jessie Montgomery:  Coincident Dances
Chicago Sinfonietta; Mei-Ann Chen, conductor
"Project W"
Cedille 90000 185
58:29
Feminine Fusion highlights the roles of women in classical music. Host Diane Jones brings you stories and music of the women who create, perform, and inspire. Produced in the studios at WCNY-FM.
◄ Back to News