Feminine Fusion
S4-48: Patchwork Quilt, Part XXII
by Diane Jones
August 1, 2020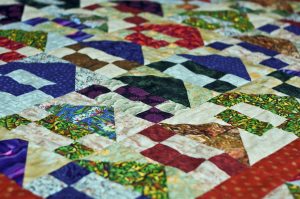 "We stitch together quilts of meaning to keep us warm and safe, with whatever patches of beauty and utility we have on hand."  – Anne Lamott
Every few months we add another block to our Patchwork Quilt, releases and performances by women for no other reason than to enjoy the music.  This week, host Diane Jones has searched through her music library and found these works to share.
Patchwork Quilt, Part XXII
Richard Einhorn:  Illness, from Voices of Light
Anonymous 4
Netherlands Radio Philharmonic; Steven Mercurio, conductor
"Voices of Light"
Sony Classical 62006
Robert Schumann:  Fantasy Pieces, Op. 73
Kristine Bogyo, cello
Anton Kuerti, piano
"Music for Cello"
Analekta 2902
Alexandra Pajak:  PTSD I: Dissociation, and PTDS II: Grounding
Charae Krueger, cello
"Mind/Electric: Music Inspired by Mental Illness"
Centaur 3729
Frederic Chopin:  Polonaise-Fantasie in A-flat Major, Op. 61
Maria João Pires, piano
"Chopin"
Deutsche Grammophon
Marga Richter:  Quantum Quirks of a Quick Quaint Quark
Czech Radio Symphony Orchestra; Gerard Schwarz, conductor
"Poetic Images Beyond Poetry"
Ravello Records 7867
Pyotr Ilyich Tchaikovsky (trans. by N. Radulovich):  Six French Songs, Op. 65
Nada Radulovich, cello
Cullan Bryant, piano
"Unexplored"
Navona 6171
58:29
Feminine Fusion highlights the roles of women in classical music. Host Diane Jones brings you stories and music of the women who create, perform, and inspire. Produced in the studios at WCNY-FM.
◄ Back to News