Feminine Fusion
S5-02: Black and White
by Diane Jones
September 12, 2020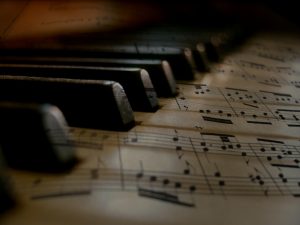 "The piano keys are black and white but they sound like a million colors in your mind." – Maria Cristina Mena
Unlike a wind instrumentalist or string player who are most often focused on a single line, keyboardists have a near-orchestra under their hands, with lines, harmonies, chord progressions, occasionally playing something completely different with each hand simultaneously.  So today, we'll hear from women playing piano, organ, and harpsichord, bringing all their skills to these black and white keys.
Black and White
William Susman:  Prologue and Action No. 9, from Quiet Rhythms
Erika Tazawa, piano
"Rhythm of Silence"
Belarca 005
J.S. Bach:  Prelude and Fugue in E minor, BWV 548
Cherry Rhodes, organ
"Cherry Rhodes…(Live)"
Pro Organo 7231
W.A. Mozart:  8 Variations on "Laat ons juichen"
Laura Alvini, harpsichord
"L'arte del fortepiano, Vol. 1"
Pan Classics 19003
W.A. Mozart:  6 Variations on "Mio caro adone"
Laura Alvini, fortepiano
"L'arte del fortepiano, Vol. 1"
Pan Classics 19003
Philip Glass:  Piano Etude Nos. 2 & 6
Simone Dinnerstein, piano
"A Character of Quiet"
Orange Mountain Music
58:29
Feminine Fusion highlights the roles of women in classical music. Host Diane Jones brings you stories and music of the women who create, perform, and inspire. Produced in the studios at WCNY-FM.
◄ Back to News