Feminine Fusion
S5-03: In the Fall
by Diane Jones
September 19, 2020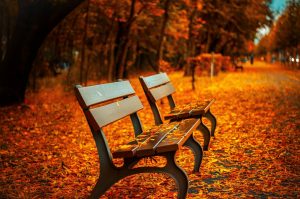 "No spring nor summer beauty hath such grace as I have seen in one autumnal face." – John Donne
The days are growing shorter, the nights are getting cooler.  Autumn is in the air.  It's a time that has inspired composers and performers for centuries, so this week we listen to music of the autumn season.
In the Fall
Pyotr Ilyich Tchaikovsky:  October (Autumn Song), from The Seasons, Op. 37b
Khatia Buntiashvili, piano
"Motherland"
Sony 88883734622
Antonio Vivaldi:  Autumn, from The Four Seasons
Anne-Sophie Mutter, violin/conductor
Trondheim Soloists
"Vivaldi: Le quatro stagioni"
Deutsche Grammophon 289 463 259-2
Stephen Goss:  The Autumn Song
Patterson/Sutton Duo
"Still Life"
Ravello Records 8034
Jean Sibelius:  Hostkvall (Autumn Song)
MariAnne Haggander, soprano
Gothenburg Symphony Orchestra; Jorma Panula, conductor
"Sibelius – Orchestral Songs"
BIS 270
Margaret Brandman:  Autumn Rhapsody
Margaret Brandman, piano
"Sensations"
Navona 6041
Ralph Vaughan Williams:  Autumn (excerpts), from Folk Songs of the Four Seasons
Clare College Choir; David Wilcocks, conductor
"Folk Songs of the Four Seasons"
Albion 010
Astor Piazzolla:  Otoño Porteño
Nadja Salerno-Sonnenberg, violin/conductor
New Century Chamber Orchestra
"Together"
NSS Music
58:29
Feminine Fusion highlights the roles of women in classical music. Host Diane Jones brings you stories and music of the women who create, perform, and inspire. Produced in the studios at WCNY-FM.
◄ Back to News