Feminine Fusion
S5-06: Plucked, Part 3
by Diane Jones
October 10, 2020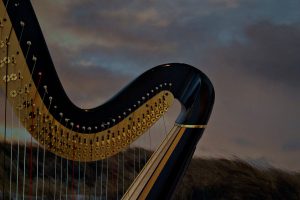 "My guitar is not a thing.  It is an extension of myself.  It is who I am."  – Joan Jett
What do harps, guitars, and harpsichords all have in common?  They are all plucked instruments.  This week, music from all of these instruments, from several talented musicians.
Plucked, Part 3:
Arnold Bax:  Valse for Solo Harp
Marcia Dickstein, harp
"Bax: Chamber Music for Harp"
RCM 19801
Gabriel Faure:  Impromptu, Op. 86
Naoko Yoshino, harp
"Claire de Lune – Musique romantique pour harpe"
Philips 446064
J.C.F. Bach:  Harpsichord Sonata in D Major
Elaine Comparone, harpsichord
"J.C.F. Bach (The Buckeburg Bach) Trios and Sonatas"
Premier 1051
W.F. Bach:  Sonata in G Major
Maude Gratton, harpsichord
"W.F. Bach – Keyboard Works"
Mirare 088
Ross Edwards:  "Arafura Dances" Concerto for Guitar and Orchestra
Karin Schaupp, guitar
Tasmanian Symphony Orchestra; Richard Mills, conductor
"Mosaic" Australian Guitar Concertos"
ABC Classics 4810961
58:29
Feminine Fusion highlights the roles of women in classical music. Host Diane Jones brings you stories and music of the women who create, perform, and inspire. Produced in the studios at WCNY-FM.
◄ Back to News