Feminine Fusion
S5-11: High Strung, Part 3
by Diane Jones
November 14, 2020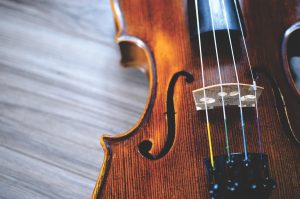 "My goal would be trying to bring some light to the world, which is often a dark and violent place." – Leila Josefowicz
In this second of our pair of episodes highlighting the string players, we focus on the high strings, the violins and violas.  Most musicians begin playing the violin, and later switch to viola – often because there are not enough violists in their orchestra.  Yet the viola has the ability to be a strong and beautiful solo instrument as well, and the performances you'll hear today certainly bear that out.
High Strung, Part 3
Traditional Armenian:  Sari Siroun Yar
Lara St. John, violin
Matt Herskowitz, piano
"Shiksa"
Ancalagon 143
Newton Strandberg:  Concerto for Viola & Orchestra
Karen Dreyfus, viola
Silesian Philharmonic Orchestra; Jerry Swoboda, conductor
"American Journeys"
MMC Recordings 2149
Sir Arnold Bax:  Phantasy for Viola and Orchestra
Hong-Mei Xiao, viola
Budapest Symphony Orchestra; János Kovács, conductor
"English Works for Viola and Orchestra"
Delos 3486
Jules Massenet:  Meditation, from Thais
Barbara Luisi, violin
Alessandro Taverna, piano
"Les Images – Encore!"
Independent Label
Pyotr Ilyich Tchaikovsky:  Sérénade mélancolique, Op. 26
Jennifer Koh, violin
Odense Symphony Orchestra; Alexander Vedernikov, conductor
Sting:  Moon Over Bourbon Street
Leila Josefowicz, violin
Charles Curtis, cello; Brandon Ross, guitar; Ira Coleman, bass; Cyro Baptista & Robert Sadin, percussion
"Violin for Anne Rice"
Phillips 462 032-2
58:29
Feminine Fusion highlights the roles of women in classical music. Host Diane Jones brings you stories and music of the women who create, perform, and inspire. Produced in the studios at WCNY-FM.
◄ Back to News