Feminine Fusion
S5-14: Patchwork Quilt, Part XXIV
by Diane Jones
December 5, 2020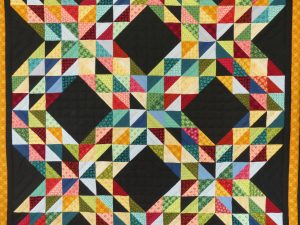 "I think music in itself is healing. It's an explosive expression of humanity. It's something we are all touched by. No matter what culture we're from, everyone loves music." ― Billy Joel
Every so often, we present a program that has no special theme or thread to tie the music together.  I call these "Patchwork Quilt" episodes.  It's the opportunity to share performances or works by women simply because they are worth hearing.  Like a patchwork quilt, the individual pieces may seem disparate and unmatched, but together they can touch us with their beauty and intrigue.
Patchwork Quilt, Part XXIV
Judith Lang Zaimont:  Lazy Beguine (from Snazzy Sonata)
Doris L. Kosloff & Judith Lang Zaimont, piano
"Prestidigitations"
MSR Classics 1238
Clara Kathleen Rogers:  Fantasia for Viol d'amour and Piano
Delight Malitsky, viola
Judith Radell, piano
"Timeless"
CD Baby
Jennifer Fowler:  Line Spun with Stars
Lontano Ensemble; Odaline de la Martinez, director
"Lines Spun"
Metier 28588
Pablo de Sarasate:  Airs ecossais
Rachel Barton Pine, violin
Scottish Chamber Orchestra; Alexander Platt, conductor
"Scottish Fantasies for Violin and Orchestra"
Cecille 9000 083
Germaine Tailleferre:  Concertino for Harp and Orchestra
Gillian Benet, harp
Women's Philharmonic; JoAnn Falletta, conductor
"Women of Note"
Koch 3-7603
Betty R. Wishart: Preludes: In Memoriam (excerpts)
Jeri-Mae G. Astolfi, piano
"Moods"
Ravello Records 8045
58:29
Feminine Fusion highlights the roles of women in classical music. Host Diane Jones brings you stories and music of the women who create, perform, and inspire. Produced in the studios at WCNY-FM.
◄ Back to News