Feminine Fusion
S5-16: Songs of Faith and Celebration
by Diane Jones
December 19, 2020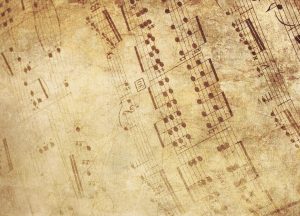 "People say that the soul, on hearing the song of creation, entered the body, but in reality the soul itself was the song." ― Hafiz, 14th Century Sufi poet
Music has long been a way to elevate an expression of faith.  In the midst of this holiday season, we will listen to songs of faith and celebration composed across the centuries, from the Middle Ages to the modern era.
Songs of Faith and Celebration
Hildegard of Bingen:  O viridissima virga, Ave
Sequentia
"Canticles of Ecstasy"
Deutsche Harmonia Mundi 05472 77320
Judith Weir:  Psalm 148
Matthew Knight, trombone
Choir of Gonville & Caius College, Cambridge; Geoffrey Webber, director
"Judith Weir: Choral Music"
Delphian 34095
Sulpitia Cesis:  Motetti spirituali (excerpts)
Capella Artemesia
"Motetti spirituali"
Tactus 572801
Joan Tower:  String Quartet No. 4, "Angels"
Miami Quartet
"Joan Tower: String Quartets Nos. 3, 4 & 5"
Naxos 8559795
Isabella Leonarda:  Iam diu dilecte mi Jesu, from Motet, Op. 20
La Villanella Basel
"O dulcis amor: Women composers of the Seicento"
Ramee 0401
Lera Auerbach:  72 Angels – In splendore lucis (excerpts)
Rascher Saxophone Quartet
Netherland Chamber, Choir; Peter Dijkstra, director
"Lera Auerbach: 72 Angels"
Alpha 593
Caterina Assandra:  O Dulcis Amor Jesu
Capella Artemesia
"Rosa Mistica"
Tactus 600003
58:29
Feminine Fusion highlights the roles of women in classical music. Host Diane Jones brings you stories and music of the women who create, perform, and inspire. Produced in the studios at WCNY-FM.
◄ Back to News