Feminine Fusion
S5-17: The Turning of the Year
by Diane Jones
December 26, 2020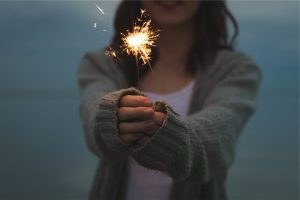 "We wait for the new year to appear to us like the hopeful sun bringing aspiring light to an eager world."  – Munia Khan
On this New Year's Eve, we look back at women in music throughout the ages.  From Medieval to Modern, here is music by women over the centuries:
The Turning of the Year
Blanche of Castile:  Amours, u trop tart me sui pris
Andrea Folan, soprano; Elizabeth Conversation
"The Medieval Lady"
Leonarda 340
Hildegard of Bingen:  Ave generosa
Oxford Camerata: Jeremy Summerly, conductor
"Heavenly Revelations"
Naxos 550998
Francesca Caccini:  Dov'io credea
Ingrid Matthews, violin; Byron Schenkman, harpsichord
"Canzoni Da Sonar: Early Italian Violin Music"
Centaur 2529
Louise Farrenc:  Trio for Clarinet, Cello and Piano in E-flat Major, Op. 44
The Leroy Trio
"Trios for Clarinet, Cello and Piano"
Pan Classics 510085
Cecile Chaminade:  Valse Caprice, Op. 33
Enid Katahn, piano
Gasparo 247
Roxanna Panufnik:  I Dream'd
Joyful Company of Singers; Peter Broadbent, conductor
"A Garland for Linda"
EMI 56961
Errollyn Wallen:  Pace
Choir of King's College, Cambridge; Stephen Cleobury, director
"Peace on Earth"
Kings College 00050
58:29
Feminine Fusion highlights the roles of women in classical music. Host Diane Jones brings you stories and music of the women who create, perform, and inspire. Produced in the studios at WCNY-FM.
◄ Back to News