Feminine Fusion
S5-18: Fire and Ice
by Diane Jones
January 2, 2021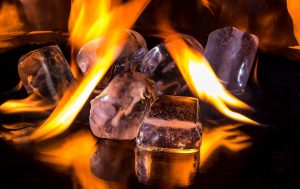 "Keep a little fire burning; however small, however hidden."  – Cormac McCarthy
On this episode of Feminine Fusion, music inspired by some of the most critical – and sometimes frightening – elements:  Fire and Ice.  Each is vital to our modern existence.  Fire warms us in the winter, and ice cools us when we are fevered, yet each can also be frightening and overpowering, and the works today reflect many aspects of these elements.
Fire and Ice:
Ralph Towner:  When the Fire Burns Low
Tomomi Kohno, guitar
"Luxe"
Act Infini 1031
Bernat Vivancos:  Vocal Ice for Soprano and Cello Octet
Nurial Rial, soprano
8 Cellists of the Basel Symphony Orchestra
"Vocalise"
Sony 88883754452
Mary Lee Taylor Kinosian:  Firedance
Upton Trio
"These Are Different Times"
Albany 1151
Dobrinka Tabakova:  Frozen River Flows
Roman Mints, violin; Donatas Bagurskas, double bass; Raimondas Sviackevicius, accordian
"String Paths"
ECM New Series 4764826
Luna Pearl Woolf:  To The Fire
Choir of Trinity Wall Street; Julian Wachner, director
"Fire and Flood"
Pentatone 186803
Christina Rusnak:  Glacier Blue
Trio Casals
"Moto Celeste"
Navona 6266
58:29
Feminine Fusion highlights the roles of women in classical music. Host Diane Jones brings you stories and music of the women who create, perform, and inspire. Produced in the studios at WCNY-FM.
◄ Back to News