Feminine Fusion
S5-20: Sound the Horns
by Diane Jones
January 9, 2021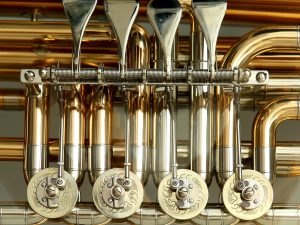 "Music is your own experience, your thoughts, your wisdom. If you don't live it, it won't come out of your horn."  – Charlie Parker
The Brass Bodies study is a research project studying how the differences in male vs. female physiology affects not only the way women are taught brass instruments, but how these differences reinforce gender bias in in the music industry.  This episode showcases some wonderfully talented women playing and composing for brass instruments.
Sound the Horns:
Stacy Garrop:  Helios
Gaudete Brass Quintet
"Chicago Moves"
Cedille 90000 136
Ida Gotkovsky:  Trombone Concerto
JoDee Davis, trombone
Eric Charnofsky, piano
"In the Moment"
Albany 464
Herman Bellstedt:  Piece de Concert
Raquel Rodriquez Samayoa, cornet
Jan Corrothers, piano
"Cincinnati Virtuosity – The Cornet Solos of Frank Simon and Herman Bellstedt"
CD Baby
Lauren Bernofsky:  Trio for Brass
University of Maryland Brass Trio
"Brass Trios"
Albany 1222
Paul Hindemith:  Horn Concerto
Marie-Louise Neunecker, horn
Brigitte Goebel, speaker
Frankfurt Radio Symphony Orchestra; Werner Andreas Albert, condcutor
"Hindemith: Complete Orchestral Works, Vol. 3"
CPO 999784
Libby Larsen:  Fanfare for the Women
Lisa Verzella, trumpet
"Womyn's Work"
L&V Records
58:29
Feminine Fusion highlights the roles of women in classical music. Host Diane Jones brings you stories and music of the women who create, perform, and inspire. Produced in the studios at WCNY-FM.
◄ Back to News