Feminine Fusion
S5-32: Patchwork Quilt, Part XXVI
by Diane Jones
April 10, 2021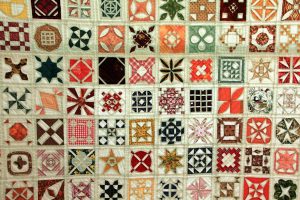 "Some women choose to follow men, and some women choose to follow their dreams. If you're wondering which way to go, remember that your career will never wake up and tell you that it doesn't love you anymore."  – Lady Gaga
Time for another Patchwork Quilt episode, an opportunity to simply look for what's new, what's appealing – to see what these talented musicians and composers are putting out for our entertainment.  We'll put all of these disparate works together into a musical Patchwork Quilt of women's music. So let's settle in and share an hour of great music together.
"Patchwork Quilt, Part XXVI"
Julia Wolfe:  Guard My Tongue
Ars Nova Copenhagen; Paul Hillier, conductor
"…and…"
Naxos 8.574281
Rain Worthington:  Within Deep Currents
Janáček Philharmonic Orchestra; Stanislav Vavrinek, conductor
"Sparks, Vol. II: Works for Orchestra"
Navona 6337
Florence Price:  Dances in the Canebreaks
Jeni Slotchiver, piano
"American Heritage"
Zoho Music 202008
Einojuhani Rautavaara:  Deux Sérénades
Hilary Hahn, violin
Orchestra Philharmonique de Radio France; Mikko Franck, conductor
"Paris"
Deutsche Grammophon 4839847
Caroline Shaw:  Narrow Sea
S­­ō Percussion; Dawn Upshaw, soprano; Gilbert Kalish, piano
"Narrow Sea"
Nonesuch 7559791788
Run time:  58:29
Feminine Fusion highlights the roles of women in classical music.  Host Diane Jones brings you stories and music of the women who create, perform, and inspire.  Produced in the studios at WCNY-FM.
◄ Back to News