Feminine Fusion
S5-35: Elemental Music: Water, Part 2
by Diane Jones
May 1, 2021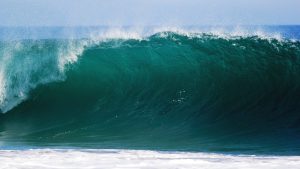 "If there is magic on this planet, it is contained in water."  – Loren Eiseley
Earth.  Air.  Fire. Water.  From the times of the ancient Greeks, and up to the present day, these four elements have been considered the building blocks upon which everything arises.  The element of water is critical to our existence.  We can live quite some time without food, but we cannot live more than a few days without water.  It's no surprise, then, that water permeates so much of the music we hear.  Today's episode is all about water music – music composed and performed with music as the inspiration.
"Elemental Music: Water, Part 2"
Helen Habershon: Far Out in the Ocean
Helen Habershon, clarinet
London Primavera; Anthony Halstead, conductor
"Found In Water"
Divine Art 25191
Jean Cras:  Suite en Duo
Antonia Schreiber, harp; Alja Velkarverh, flute
"Poll & Apoll: Water Music for Flute and Harp"
Hanssler 20041
Michio Miyagi:  Haru no Umi (The Sea in Springtime)
Anne Akiko Meyers, violin; Akira Eguchi, piano
"Smile"
Koch International 7762
Armand Amar:  Planet Ocean Suite
Angèle Dubeau, violin; La Pietà
"Immersion"
Analekta 28749
Run time: 58:29
Feminine Fusion highlights the roles of women in classical music.  Host Diane Jones brings you stories and music of the women who create, perform, and inspire.  Produced in the studios at WCNY-FM.
◄ Back to News