Feminine Fusion
S5-36: Music on the Wind, Part 3
by Diane Jones
May 8, 2021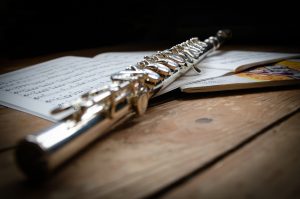 "To most human beings, wind is an irritation.  To most trees, wind is a song."  – Mokokoma Mokhonoana
This week we feature Music on the Wind!  Outstanding performances from wind players, as well as a recent composition showcasing the saxophone.  These works span a wide range of styles and eras.  Even with the vast repertoire of existing works available to wind players, there are always new works to be composed and discovered.
"Music on the Wind, Part 3"
Igor Stravinsky:  Three Pieces for Solo Clarinet
Bettina Aust, clarinet
"Fin de Siecle"
Genuin 21279
Patrick Roux:  Soledad
Gruca White Ensemble: Linda White, flute; Robert Gruca, guitar
"A Different Take"
Big Round 8964
Ennio Morricone:  Gabriel's Oboe
Danna Sundet, oboe
Panoràmicos
"Reflections"
Independent Label
Alexis Ciesla:  Dança de Lisboa
Shannon Lowe, bassoon
Kristin Pfeifer Yu & Ken Davis, violins
Laurel Yu, viola; Steven Taylor, cello; Maurice Belle, double bass
"A Musical Bouquet: Old, New and Borrowed Works for Bassoon and Strings"
MSR Classics 1773
Stacy Garrop:  Quicksilver
Jonathan Hulting-Cohen, saxophone
UMass Wind Ensemble; Matthew Westgate, conductor
"Quicksilver"
MSR Classics 1746
Dai Fujikura:  Glacier
Claire Chase, bass flute
"Terrestre"
New Focus Recordings 122
Run time: 58:29
Feminine Fusion highlights the roles of women in classical music.  Host Diane Jones brings you stories and music of the women who create, perform, and inspire.  Produced in the studios at WCNY-FM.
◄ Back to News