Feminine Fusion
S5-49: Play!
by Diane Jones
August 7, 2021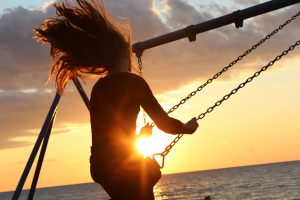 "Don't play what's there.  Play what's not there."  – Miles Davis
When we listened to stories as a child, we'd often act them out the next day – adding new and exciting twists that only a child can conceive, of course!  This episode brings together performances and compositions from women that take us to a fantasy world, where our imaginations can run wild.
Play
Claude Debussy:  Doctor Gradus ad Parnassum & Serenade for the Doll (from Children's Corner)
Larissa Dedova, piano
"Debussy: Children's Corner, Suite for Piano, L. 119"
Centaur 2493
Rouen Shakarian: The Turnip and The Wonderful Counting Clock
Rainier Chamber Winds; Kathleen Macferran, conductor
"Tales Told in the Winds"
MMC Recordings 2017
Edie Hill:  From the Wingbone of a Swan
The Crossing
"Clay Jug"
Navona 6073
Mark Christopher Brandt:  The Nightingale (excerpts)
Yana Nikol, flute; Katherine Colburn, cello; Mark Christopher Brandt, piano
"The Nightingale"
Lionheart Music East 51317
Run time:  58:30
Feminine Fusion highlights the roles of women in classical music. Host Diane Jones brings you stories and music of the women who create, perform, and inspire. Produced in the studios at WCNY-FM.
◄ Back to News