Scenes of the Region Photo Contest
Get connected to the region and show your love for beautiful Central New York with WCNY's Scenes of the Region photo contest.
This quarterly campaign will spotlight the picturesque vineyards, lakes, waterfalls, farms, mountains, and overall stunning landscapes of the WCNY region.
Snap a photo, then upload it using the SUBMIT tab on this page. WCNY's professional media team will select the top 20 photographed Scenes of the Region for each season of the year (summer, autumn, winter, spring). Then YOU get to vote for the winning photos!
The top 3 photos will be highlighted in WCNY CONNECT magazine, and the 1st place winner will be featured on WCNY social media, website pages, and on WCNY-TV.
 
Online voting rules:
Limit is one (1) vote via Online Voting per day
User will vote for 3 photos as Rank #1, Rank #2, and Rank #3
Prizes for 1st, 2nd, and 3rd place winners! Will be revealed at the Winter Edition Exhibition Feb. 21.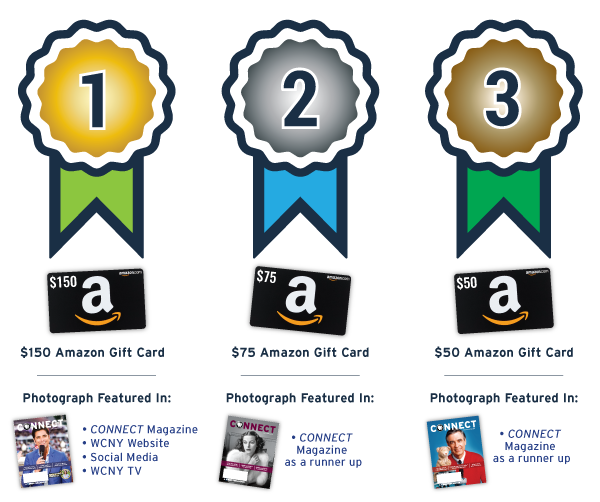 Get connected to the beauty of the region at WCNY's Scenes of the Region Photography Winter Edition Exhibition. View 119 photos captured in Central New York, the Finger Lakes, and Mohawk Valley, enjoy wine samples Stone Age Winery, beer samples from IBU Brewery, and live music by No Strings Attached String Quartet. The 1st, 2nd, and 3rd place winners will be revealed and guests are invited to vote for a fan favorite of the evening!
EVENT SCHEDULE
Event Location
415 W. Fayette St.
Syracuse, NY 13204
6–7:30 p.m.
Exhibition Viewing
6:45–7 p.m.
First, Second, Third Place, and "Fan Favorite" Vote Winners Revealed
7–7:30 p.m.
Workshop
7–7:30 p.m.
WCNY Broadcast and Education Tours