Get connected to the region and show your love for beautiful Central New York with WCNY's Scenes of the Region photo contest.
This quarterly campaign will spotlight the picturesque vineyards, lakes, waterfalls, farms, mountains, and overall stunning landscapes of the WCNY region.
Snap a photo, then upload it using the SUBMIT tab on this page. WCNY's professional media team will select the top 20 photographed Scenes of the Region for each season of the year (summer, autumn, winter, spring). Then YOU get to vote for the winning photos!
The top 3 photos will be highlighted in WCNY CONNECT magazine, and the 1st place winner will be featured on WCNY social media, website pages, and on WCNY-TV.
Autumn Edition Submission
Sept. 24–Nov. 9
Top 20 Autumn Edition Photos Released:
November 20
Vote for the Top 3 Edition Photos:
November 20–28
Online voting rules:
Limit is one (1) vote via Online Voting per day
User will vote for 3 photos as Rank #1, Rank #2, and Rank #3
Prizes for 1st, 2nd, and 3rd place winners!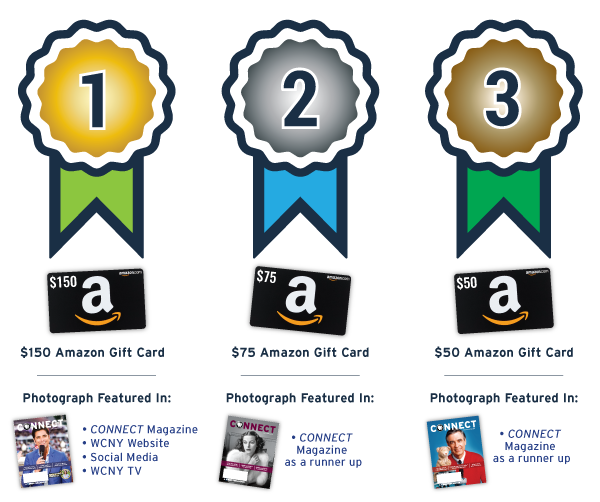 Submit your Scenes of the Region photo under the SUBMIT tab on this page. We'll post it to our Instagram @ScenesoftheRegion account and tag you. Be sure to leave us your Instagram, Facebook and Twitter handles!
Technical Specifications to Keep in Mind
Only one submission per contestant will be permitted. Photos should be 2–4 MB, uploaded as .jpg or .tiff format.
Photos should highlight Scenes of the Region, as interpreted by the photographer. The seasonal theme should be discernible in photos submitted to the contest, but it is not necessary to have a recently taken photo to win.
Submissions for the Autumn Edition will start Monday, Sept. 24 – Nov. 9!

Scenes of the Region Autumn Edition Exhibition
More details coming soon!