Scenes of the Region Photo Contest
Get connected to the region and show your love for beautiful Central New York with WCNY's Scenes of the Region photo contest in the Winter Edition.
This quarterly campaign will spotlight the picturesque vineyards, lakes, waterfalls, farms, mountains, and overall stunning landscapes of the WCNY region.
Snap a photo, then upload it below. WCNY's professional media team will select the top 20 photographed Scenes of the Region for each season of the year (summer, autumn, winter, spring). Then, YOU get to vote for the winning photos!
The 1st, 2nd, and 3rd place winners will receive an Amazon gift card, as well as a feature on WCNY's social media and website. In addition, the 1st place winner will be featured on WCNY-TV.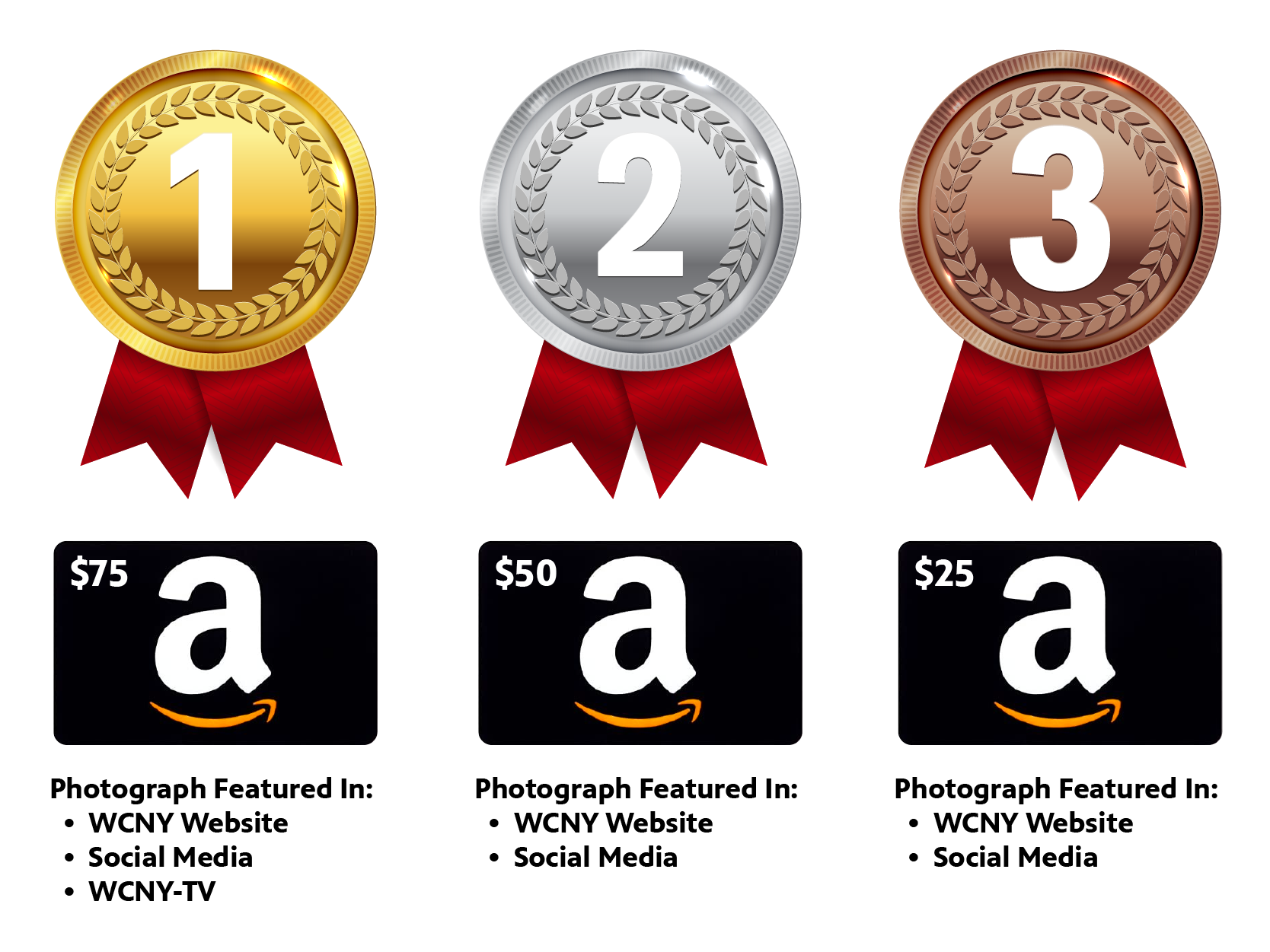 Autumn 2022 Edition Winners
Summer 2022 Edition Winners
Spring 2022 Edition Winners
Winter 2021 Edition Winners
Autumn 2021 Edition Winners



Summer 2021 Edition Winners



Spring 2021 Edition Winners



Winter 2020 Edition Winners



Autumn 2020 Edition Winners
Spring 2020 Edition Winners
Winter 2019/2020 Edition Winners
Autumn 2019 Edition Winners
Pets and Animals 2019 Edition Winners
Spring 2019 Edition Winners
1st Place
Evangeline Walters
Chick Wish
Cortland County

2nd Place
Susan Campbell
Verona Beach
Oneida County

3rd Place
Nikki Atkinson
Down by the Bay
Wayne County
Winter 2019 Edition Winners
1st Place
Kate Stewart
Highland Forest South Side Trail
Onondaga County

2nd Place
Norma Davis
Winter Starling in Crabapple Tree
Ontario County

3rd Place
Rebecca Carr
Giza Road, Owasco, NY
Cayuga County
Autumn 2018 Edition Winners
1st Place
Steven Dunn
Moose River, Old Forge, NY
Herkimer County

2nd Place
Kathleen Ferguson
Green Lakes State Park
Onondaga County

3rd Place
Marcia Bower
rt 11a near Nedro NY
Onondaga County
Summer 2018 Edition Winners
1st Place
Steve Friedman
Taughannock Falls
Tompkins County

2nd Place
Sarah Moses
First Lake in Old Forge
Herkimer County

3rd Place
Michelle Enright
Horse Farm
Tompkins County