Feminine Fusion
Sept 22 – 28, 2018: Seasonal Music – Autumn
by Diane Jones
September 22, 2018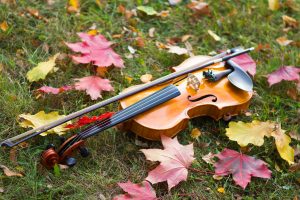 "It was a beautiful bright autumn day, with air like cider and a sky so blue you could drown in it." – Diana Gabaldon, Outlander
The days are getting shorter, the nights are getting cooler, so it's a good time to listen to some Autumn music.  Baroque, contemporary, vocal and instrumental works – seasonal music from talented women on this week's episode.
Seasonal Music: Autumn
Ralph Vaughan Williams:  The Unquiet Grave (Autumn), from Folk Songs of the Four Seasons
Clare College Choir, Dmitri Ensemble
David Willcocks, conductor
"Folk Songs of the Four Seasons"
Albion 010
Christopher Simpson:  Autumn, from The Four Seasons
Sirius Viols
"The Four Seasons"
Deutsche Harmonia Mundi 88875190982
Martha Brandman:  Autumn Rhapsody
Martha Brandman, piano
"Sensations:  Wind, Waves, Birds & Fire"
Navona 6041
Edgar Meyer:  Violin Concerto
Hilary Hahn, violin
St. Paul Chamber Orchestra; Hugh Wolff, conductor
"Barber & Meyer: Violin Concertos"
Sony 89029
Run time:  58:29
Feminine Fusion highlights the roles of women in classical music. Host Diane Jones brings you stories and music of the women who create, perform, and inspire. Produced in the studios at WCNY-FM.
◄ Back to News